2018 Summer Strength and Conditioning, Open Field and Open Gym:
The Essex Tech Fitness Center will be open and running a strength and conditioning program over the summer from June 25th - August 7th, free of charge to any interested student - athlete. Times are as follows: Monday, Tuesday, Thursday from 4:00 -5:30 pm, 6 - 7:30 pm, and Wednesday from 6 - 7:30 pm. This is a great way to get in shape for the fall season. For further information contact Mr. Connors at dconnors@essextech.net.
Open Field will be held on Tuesday nights from 5 - 6:30 pm from July 10th - August 14th (Supervised by Mr. Comeau)
Open Gym will be held on Tuesday nights from 5 - 6:30 pm from July 24th - August 14th (Supervised by Mrs. Leete)
***Open Gym will start later in the summer due to gymnasium floor being refinished. NO one is aloud on the floor from July 8th - July 31st***
If you have any other questions you can email the Athletic Director, Farah Lalli at: flalli@essextech.net. Ms. Lalli will get back to you as soon as possible.
8/7/2018 12:32 AM
2018 Fall Sports Meeting for Parent(s)/Guardian(s): Wednesday, September 5th at 6pm
There will be a 2018 fall sports meeting for all parents/guardians on Wednesday, September 5th at 6:00 pm in the main cafe. The Athletic Director, Farah Lalli, will meet with the parents/guardians from 6:00 - 6:30 pm to review some important MIAA rules, school policies, protocols, and expectations. The Athletic Trainer, Mr. Brucker, will also review Impact Testing with the parents/guardians and explain the important role he plays in all sports. From 6:30 - 7:00 pm the head coach from each program will hold his or her own sports specific meeting with parents/guardians in a designated classroom. The head coach will review the coaching staffs coaching philosophy, season goals, team rules, philosophy on playing time (each level), expectations, and anything else that they deem is important.
9/6/2018 9:57 PM
2018 fall sports TRYOUT SCHEDULES will be listed under "Announcements" on the left-hand side of this page.
9/1/2018 3:28 AM
Effective for the 2018 - 2019 school year the athletic user fee will increase to $100 per sport. If you have any questions or concerns in regards to payment please contact the business office.
Please note that if a student is cut during the tryout process or if a student decides not to continue to play prior to the first competition (game/meet) they will be refunded the user fee minus the $5 cancellation fee.
9/1/2018 7:13 PM
- - - "The Hawks" - - - Update
Event Details
January 16th, 2018

7:00 PM

Basketball

Varsity

Boy

Game

Home

Saugus
Game Summary
- - - "THE HAWKS" - - -
58
Vs.
Up until the final quarter of Tuesday's home tilt with Saugus, the Essex Tech basketball team had never trailed.
But the visiting Sachems were able to remain within striking distance all evening, finally getting some tough shots to fall in traffic and building as big as a four-point lead with just under five minutes to play.
But as good as the Hawks had played all night, they weren't going to let it slip away.
"I just told them we have to grind defensively," Hawks head coach Juan Juan recalled saying to his squad during a fourth quarter timeout. "A lot of times when we get in holes like that, we try to get through it by forcing our offense. But defensively is how we're going to win games — and I thought we really locked in more after that."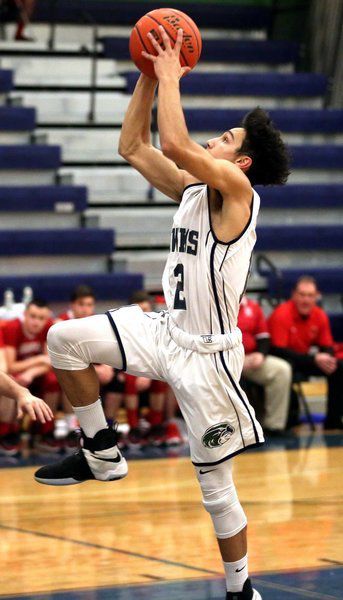 Led by Jose Tavares' contagious on and off-ball pressure, the Hawks quickly erased the deficit and regained the lead on his layup with under three to go. A couple more stops and some clutch free throw shooting down the stretch eventually sealed the deal as Essex Tech walked away with a 58-51 victory.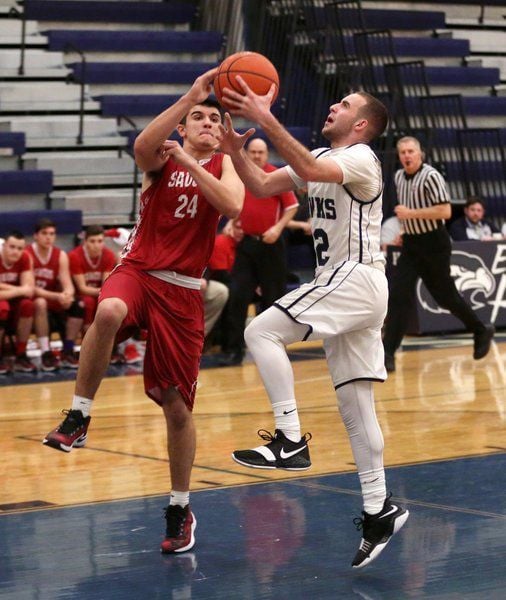 "I think that's really the first time all year that we committed defensively," added Juan, his team now 4-5 on the season. "(Jose) is our grinder, our intensity guy. He doesn't really score offensively but he puts it out there on the other end."
While Tavares anchored the defense, it was junior guard Kendall Hersey who continued to put on a show on offense. The shifty facilitator lit it up for a game-high 24 points, including three triples in the opening frame and a 7-for-7 clip from the charity stripe.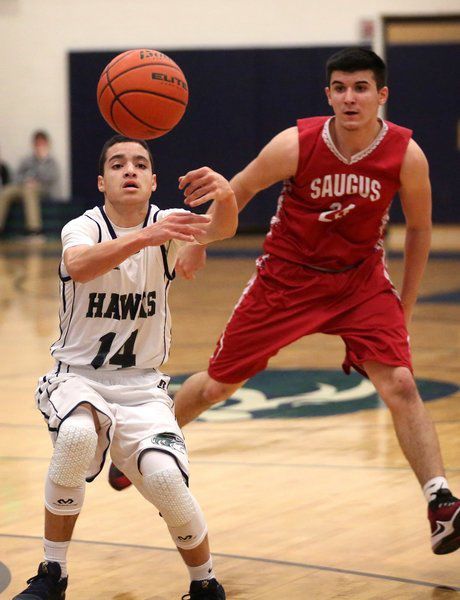 Hersey's versatility was on full display as he also contributed with five rebounds, four assists, a steal and one crowd-pleasing rejection.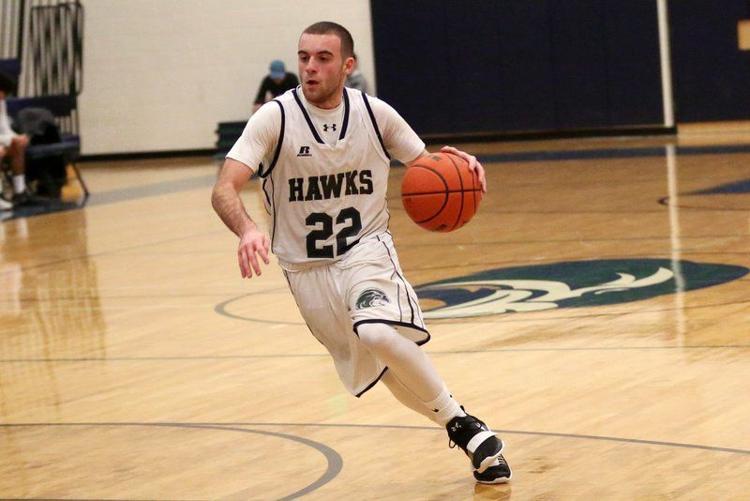 It was Hersey's ability to control the offense and help out defensively that helped earn the Hawks the big win. "I thought Kendall really committed defensively tonight, especially since he was struggling defensively," said Juan. "I thought tonight he led the right way."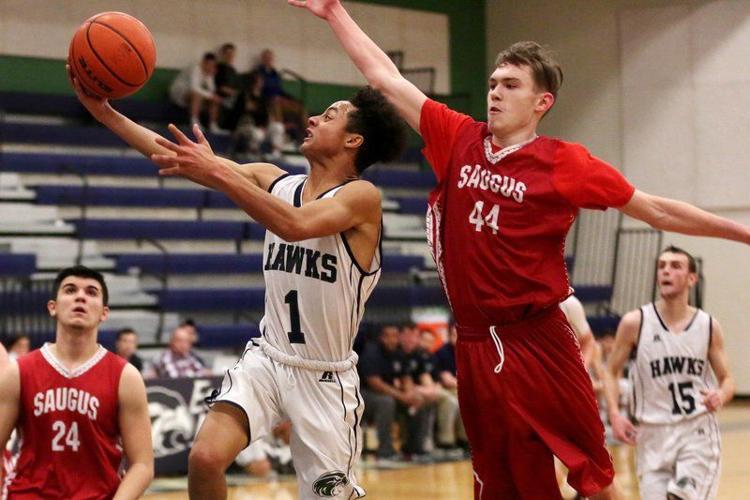 Hersey's pass to a cutting Pat Levesque (4 points, 8 rebounds in his first action of the season after recovering from surgery) with under a minute to go was the nail in the coffin. Saugus had their chances to close the gap, but strong close outs on the shooters (Saugus hit seven triples on the night) and good positioning underneath for rebounds wrapped things up.
Prior to the final quarter, Essex Tech built as big as a 10-point lead. It lead by five after one, one at the break, and five after three. The Hawks outrebounded their foes 33-22 and assisted on an impressive 12 of their 21 field goals.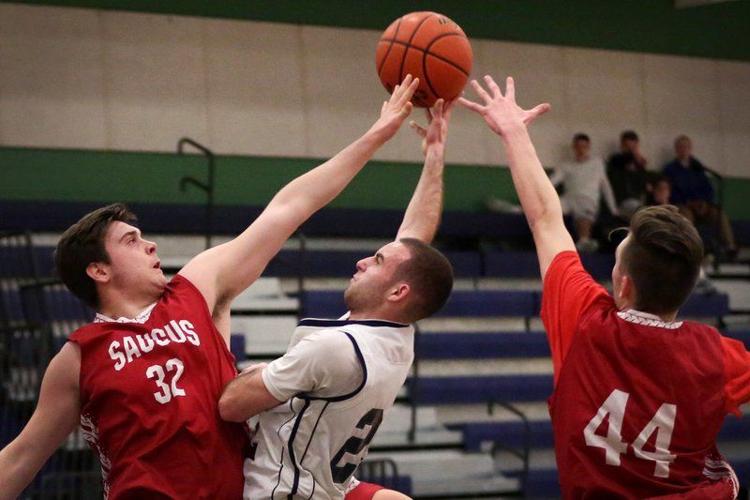 Ryan Reynolds was also a bright spot in the win, finishing with eight points, while Nick Irving contributed 10 points, five rebounds, three assists and a pair of steals. The Hawks will look to make it three wins in a row when they host Fellowship Christian Thursday afternoon.
Essex Tech 58, Saugus 51
at Essex Tech
Essex Tech — Jose Tavares 2-1-5, Anderson Villa 2-0-4, Kendall Hersey 7-7-24, Aaron Fournier 1-0-3, Patrick Levesque 2-0-4, Nick Irving 4-1-10, Ryan Reynolds 3-2-8, Keegan Dooley 0-0-0, Max Doherty 0-0-0, Andrew Fournier 0-0-0. Totals: 21-11-58.